Crawl Space Dehumidifiers Available Near Cary, Raleigh, Durham
Improve your home's air quality and control moisture damage with our dehumidifiers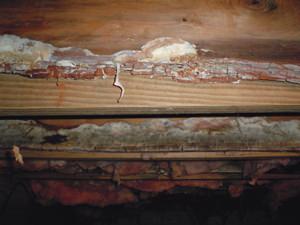 Mold loves moisture. One of most important benefits of dehumidifying a basement or crawl space is protection against a mold infestation. When wood and other organic materials remain damp because of high humidity, they create an ideal mold habitat. Effective dehumidification can prevent a damaging and hazardous mold invasion.
Have you ever experienced the trouble of mold or musty smells in your basement or crawl space?Here at Regional Energy Savers, we install state of the art dehumidifiers to help reduce the amount of moisture in your basement or crawl space. This can prevent the growth of mold and other musty odors and mildew.
High humidity levels can cause numerous problems. Moisture can saturate "fluffy" insulation, such as cellulose or fiberglass batts, will dramatically diminish the insulation's R-value and adversely affect energy efficiency. Mold also feeds off of organic materials like wood, paper and even certain types of paint when they begin to retain moisture. The mold can spread by means of airborne spores. These microscopic organisms pose a serious health hazard. Musty odors and mold stains are telltale signs of excess moisture that is promoting mold growth.
Building components can lose their stability over time by means of mold growth or moisture damage. Wood can begin to rot and deteriorate and sheet metal, screws, and other steel elements can rust and wear down. Bugs like termites can even begin to feed off rotting wood, creating an even bigger problem. Let us prevent your mold and moisture issues by installing an energy efficient dehumidifier.
We would be happy to service any home in the Central NC area, including Raleigh, Durham, Cary and more! Contact us for a Free Estimate!
Energy efficient dehumidifiers for your home in North Carolina
As a proud Dr. Energy Saver dealer, Regional Energy Savers has access to industry-leading moisture control and dehumidification systems. These systems can drastically reduce the production of moisture and mold in your North Carolina home. Our professionals have expertise in basement waterproofing, crawl space sealing, and dehumidification systems to provide you with long-lasting results.
An integrated strategy of combining the functionality of proper insulation, strong ductwork and energy efficient dehumidification systems provides several benefits beyond moisture control. These elements can work together to create healthier air quality, and an overall healthier, cleaner, home environment. Learn more about the types of dehumidifiers we have available -- specifically designed to effectively maintain your basement and crawl space.
Start Saving Energy and Money With A Whole-House Energy Audit.
Contact Regional Energy Savers today to schedule an estimate for our dehumidification services today! We proudly service areas throughout North Carolina including Cary, Raleigh, Durham, Fuquay Varina, Wake Forest, Holly Springs, Knightdale, Morrisville and more.
We also provide home energy audits to diagnose all energy problems and sources of discomfort within your home.
Looking for a price? Get a no cost, no obligation free estimate.