About Regional Energy Savers
Hours of Operation:
Monday-Friday
8:00am-5:00pm
Energy conservation is a matter of immense importance in our day in age. Taking care of the environment is crucial for the next generations. But a lot of people might not realize that helping the earth is also helping you! Energy-saving products like insulation and more will reduce your utility bills while helping you control the environment within your home. The right contractor can give you optimal solutions at affordable prices!
With over 30 years of experience, Regional Energy Savers is your go-to source for all your home energy efficiency needs. We specialize in saving you money and increasing your comfort at home through products like spray foam and other insulation, air sealing, and more! Backed by the Dr. Energy Saver dealer network, we have the skills and products necessary to give you exactly what you need. Our technicians are fully trained and certified, dedicated to achieving your complete satisfaction. You'll always feel welcome to ask any questions! If you're looking to reduce energy costs and contribute to a greener world, you've come to the right place!
About the General Manager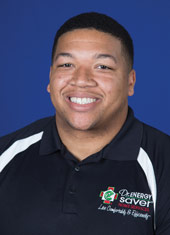 Von Bullock Jr.
Von Bullock Jr. grew up in Knightdale, NC. He attended Barton College in Wilson, NC. He's also been a certified Crawlspace Professional for 10 years and a Foundation Repair Certified Inspector for 9 years. Von attended Southface Institute in 2007 for a Home Energy rating curriculum. Von is a member of the NC Building Performance Association, and currently serves as Vice - Chairman. Before joining Dr. Energy Saver, Von had been involved in making homes safer and more comfortable for over 16 years, with Regional Waterproofing. He's helped over 2,000 customers personally improve their air quality, heating and cooling cost, and making their homes much more energy efficient and comfortable.
Outside of work, Von enjoys sports, travelling, and spending time in his Zebulon, NC home. He is excited about the work he has already accomplished, and he cannot wait to see the good that Dr. Energy Saver products can do for his customers!
Our Mission
Here at Regional Energy Savers, our goal is to increase the comfort and energy efficiency of every home we come into contact with. We strive to give the best solution, at the best price for all of our clients, and have done so for over 30 years! Our motto is: "More Comfort At Less Expense!!"
Accreditations & Affiliations
Giving Back to Our Community
Regional Energy Savers believes that taking part in our community is another essential way to help our friends and neighbors. We volunteer with the SPCA to promote animal welfare, and we take an active part in our local chapter of the Sierra Club, one of the oldest and largest grassroots environmental organizations in the US. We enjoy the work we do and look forward to future opportunities to get involved!
Looking for a price? Get a no cost, no obligation free estimate.